Getting to Know the New Associate Director of the Neuroscience Graduate Program: Dr. Deda Gillespie
AUTHOR: Dr. Deda Gillespie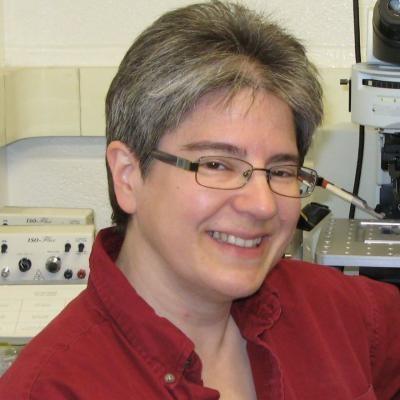 Hello Everyone,

I'm Deda Gillespie, incoming Associate Director of the Neuroscience Graduate Program. To introduce myself and tell you a bit about my background: I'll be representing the Faculty of Science and basic researchers and am what you might call a hardcore neuroscientist, in other words, a scientist first, and more specifically, one focused on understanding neural mechanisms. My interests lie largely in the areas of neural processing and circuit optimization (i.e., developmental plasticity), and our approaches sit at the interface of cellular and systems neuroscience.
After receiving a PhD in Neuroscience from University of California, San Francisco (UCSF), working in the Department of Physiology, I went on to postdoctoral training at Northwestern and at the University of Pittsburgh in the Departments of Neurobiology and Physiology and of Neurobiology. During my training, I looked at development and neural processing in visual and auditory systems. Now in my lab here at McMaster, we primarily work on an area of the mammalian auditory brainstem that is a model system for understanding how developmental changes in excitatory pathways are integrated with complementary changes in inhibitory pathways to optimize immature circuits.
Despite a major space crunch at that time, UCSF was a special place. The Neuroscience program fell under the umbrella of the larger Program in Biological Sciences, all of whose students were focused on basic research. Classes were small, and as at most US schools, students entered a PhD program directly. First-year neuroscience students completed the required core neuroscience, cell biology, and functional neuroanatomy courses, worked with faculty coaches to present in the big journal club for the Program in Biological Sciences, and rotated in 3-4 labs before choosing a match. Our additional coursework – in subsequent years we took 6 advanced topics elective courses and participated in a weekly general neuroscience journal club for students and faculty – was manageable mostly because we had no undergraduates and we TA'd just one term, but all the coursework took its toll: the average time to degree in the neuroscience program was 6.7 years.

Grad school could be long and stressful, compounded for us by the cost of living in San Francisco, but it was also fun. As students, we enjoyed a protected time, not having to worry about finding or managing funds and equipment, training students, completing administrative tasks, etc. With our space constraints, we had almost no choice but to learn from trainees in nearby labs (Stan Prusiner's lab was next to ours, and I think we all cringed and wondered the few times we heard glassware break next door). To practice presentation skills and keep up with developments across neuroscience, students had their own weekly journal club, usually accompanied by burritos, or occasionally by some of the odder combinations found in San Francisco (moo shu pizza does work, in case you'd wondered).
As my fellow students and I largely followed academic careers, that pathway is undeniably what I know best. Classes here are larger and much more diverse in terms of specific preparation, motivations, and goals than what I experienced as a student. And although not all of our students wish to pursue careers in basic neuroscience (nor should they!), I know that certain grad level skillsets are broadly transferrable. All this is to say that while I may not have answers immediately, I encourage students to bring to me questions, concerns, and ideas about preparing for non-academic career paths so that we can find ways to address your needs.